AN EXTREMELY RARE BRONZE BOW-SHAPED FITTING, WITH TURQUOISE ORNAMENTED CICADA WITH HUMAN FACE IN RELIEF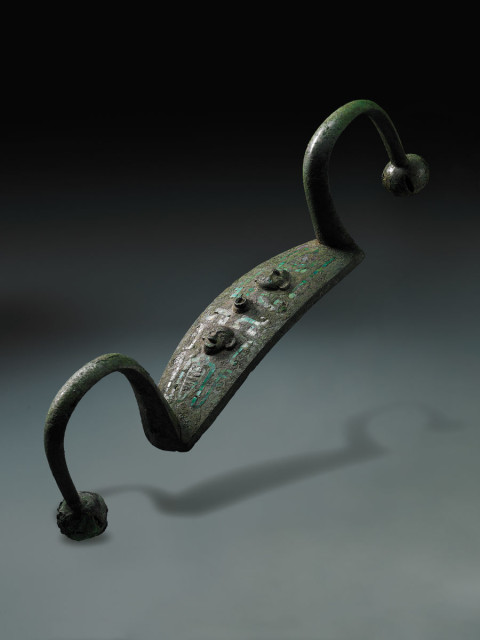 AN EXTREMELY RARE BRONZE BOW-SHAPED FITTING, WITH TURQUOISE ORNAMENTED CICADA WITH HUMAN FACE IN RELIEF
SKU:

2725

.
Categories: Shang Bronzes, Shang Dynasty.
Late Shang Dynasty c.1300-1050 B.C.

Bronze
Turquoise

This is solid material - DI best
Collection of an important collector form New York

The large central section curved and carved with a pair of motifs composed of half human and half cicada, confronted on a raised hollow boss in the centre, the human faces were cast in relief with prominent facial features, large horns, huge ears, shaggy eyebrows, bright eyes, big nose and neat teeth, emphasizing the details by delicately inlaying with extremely tiny turquoise and making the depiction of human face more realistic. An archaeological example with similar facial features is a bronze mask excavated in Xibeigang tomb M1400, Anyang, illustrated in Yung-ti Li, Gems of Yinxu: Catalogue of Selected Artifacts from Anyang in the Institute of History and Philology, Taipei, 2009, pl.61, p77; another example is a gui unearthed in countryside of Anyang during late 1940s, a human face pattern cast on the foot, illustrated by Hayashi Minao in Inshu jidai seidoki no kenkyu (Conspectus of Yin and Zhou Bronzes), Tokyo, 1984, vol.1, plate, p.86, gui40. Long arms with three fingers was extended from the cicada body, triangular-shaped with nodular stripes without feet resembling a pupa. The cicada body is also filled with turquoise sophisticatedly. Each end of the central section with an arching looped arm terminated with rattles, overall covered with a green patina and malachite encrustation.
The rarely seen, mysterious motifs seem to represent a kind of totem relating to the concept of afterlife world envisioned by Shang people. The zoomorphic motif a chimera of horned human head and cicada body, probably one of the important Shaman deities worshipped during Shang dynasty. Representing the power of re-birth and life of eternity, cicada signifies that man could rise from the grave as they emerges from the soil in spring after transformation. The artistic style of the figure and decorations of turquoise wrapped up the whole piece in an atmosphere of mystery and spirituality, leaving a lot of unknowns and questions to us.
Often described as "bow-shaped" fitting and thought to have been associated with chariotry. In Shang dynasty burials, these fittings are generally found near the chariot box in front of the charioteer, and only top-rank aristocracies buried with chariots. The function of bow-shaped fittings remains unclear: they have been identified as bow-guards, crossbow fittings, and banner ornaments. It has also been suggested that they were either rein-holders, or rein-guards attached in some fashion to the front of the charioteer. Considering the structure, motifs and locations found of the "bow-shaped" fittings, the arguments among bow-guards, crossbow fittings and banner ornaments still come in for criticism, while rein-holding would be a more convincing and reasonable way to use them, worn by a charioteer at his waist to free his hand. Fitted on the belt, the served the driver to control the reins of horses attached to the arches and the bells probably used as jingles. The charioteer were able to use weapon against enemies or prey. The rich decoration flaunts the glory, power and supremacy of the Shang ruling class.
The primary form of "bow-shaped" fittings were found in Phase II of Anyang period, (c. 1250-1160 B. C.), and had great improvement in Phase III of Anyang period. (c. 1159-1102 B. C.) By comparing with other bow-shaped fittings, this one can be most probably dated to Phase III. The arc of arm was extended much outward to resist greater tension, while the curving central section was flattened to cling the contours of human body, and the joint of arc was larger to avoid fractures. The overall amelioration on design enhances the durability of the vessel and undergo with more pulling forces. Examples with similar shape from Phase III, but mostly with simple pattern can be found in Yinxu Guojiazhuang M160 and Qijiazhuang M269, illustrated in Institute of Archaeology, Chinese Academy of Social Science (CASS) ed., Anyang Yinxu Guojiazhuang Shang dai mu zang (Guojiazhuang Cemetery of the Shang Period within the Yin Ruins, Anyang: excavations in 1982-1992), Beijing, 1998, p.146; and'Yinxu Qijiazhuangdong M269′, Acta Archaeologica Sinica, Beijing, 1991, vol. 3, Pl. 16, p. 362. Extraordinary rare to have gorgeous and complicated pattern on the bronze fitting, a similar piece with simplified design was excavated in 1930s, and it has been the collection of the Museum of Far Eastern Antiquities, illustrated in Bulletin of the Museum of Far Eastern Antiquities, Stockholm, 2009, no. 77, pl. 202; another similar example with human face motif and filled with turquoise can be found in the Harvard Art Museums, illustrated by Sueji Umehara, Yin Hsu: Ancient capital of the Shang dynasty at An-yang, Tokyo, 1964, pl. 46, p. 40. The "bow-shaped" fitting excavated from Shang dynasty Chariot Pit in Xiaotun M20 were also sharing a similar theme of zoomorphic motifs and decorated with turquoise inlaid, but the details of depiction were different, illustrated in Yung-ti Li, Gems of Yinxu: Catalogue of Selected Artifacts from Anyang in the Institute of History and Philology, Taipei, 2009, Pl.85, pp. 100-101.
PROVENANCE
Collection of an important collector form New York
Send us a message and ask for details